Media professor receives prestigious accolades for short documentary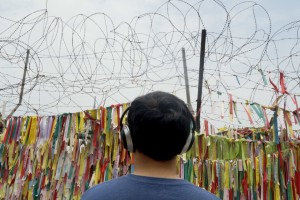 Assistant Professor of Media Production Sangsun Choi received the Best of Competition Award from the Broadcasting Education Association and was a top-ten finalist in the mini-documentary competition at the Big Sky Documentary Festival for his short documentary Talk to my Son.
Choi's work as a visual storyteller addresses the distress and recovery that exist in life and society, typically focused on social minorities and vulnerable people who have their own stories of problematic circumstance. Created during the summer of 2017, Talk to my Son is a participatory documentary in which a filmmaker sheds light on the relationship between a mother, a North Korean defector, and her son in China.
The Broadcasting Education Association (BEA) is among the most influential academic media organizations in the world, and hosts the largest media festival in academia. Of a record 1,541 submissions entered into this year's competition, Choi's award ranks him first among 20% of entrants in his category. He will be honored at the BEA conference this April.
"This award seriously and significantly elevates Malone's reputation in media and film academic circles," said Andrew Rudd, professor of communication arts.
The Big Sky Documentary Festival, hosted in Montana, receives more than 1,800 submissions each year particularly because winners automatically qualify for an Oscar nomination. This premier festival draws a global audience of at least 20,000 viewers.
Winners have not yet been determined between finalists, but a win for Choi could mean automatic nomination for the 91st Academy Awards in 2019.
"Support from my colleagues in the Communication, Visual, and Performing Arts department, as well as the Malone administration, helped make this film possible," said Choi. "These accolades will add to the list of reasons why future film students should attend Malone. We are eager to equip young, creative minds for the next generation of media production."