Men's soccer team assists local business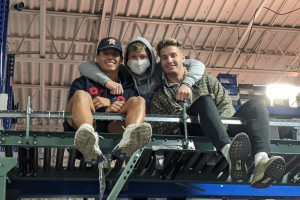 Putting Malone's mission into practice, the Malone men's soccer team participated in a service project at a local e-commerce warehouse called Areatrend. Areatrend is an e-commerce fulfillment center and warehouse for Amazon partners such as Janie and Jack, Citizen watches, and Dressbarn.
The team worked late nights, sometimes until 1 a.m., to help finish the work that the warehouse needed to complete, including packing and shipping urgent orders. They helped to process purchase orders by scanning about 1,000 individual items per shift, that were then uploaded to the website so people could purchase them in time for the holidays.
The service project was intended to build team culture by assisting someone near and dear to the Malone community: Rod Neuenschwander '99, current chair of the Board of Trustees and CEO of Areatrend.
"We said 'yes' to this opportunity because Rod selflessly serves the Canton community and Malone University," said men's soccer Head Coach Brock Kertoy. "We are thankful for Rod's kindness and generosity. We could only hope to follow his lead by serving him at a time when Areatrend needed help."
Kertoy's sentiments were backed by his players.
"The family environment at Areatrend was very evident during our time there," said Andrew Brengelman '21. "What I noticed the most was how much everyone cared about each other and I think Rod's great leadership and values play a role in that."
The benefits of service for athletics and life is something that Kertoy clearly recognizes.
"Service while off the field impacts how we play on the field," he said. "Discipline, honesty, and respect are traits gained from service and are evident when we play. Service off the field demonstrates how to look out for others beyond ourselves. It teaches us to learn about people and their unique situations, to come alongside others and work with them. All of these things that service teaches us are directly translatable to the on-field athletic performance."
The photo above was taken at the warehouse. Pictured (from left to right) are Joseph Arcinegas '23, Andrew Brengleman '21, and Patrick Brightbill '21.