New center prepares students for intercultural service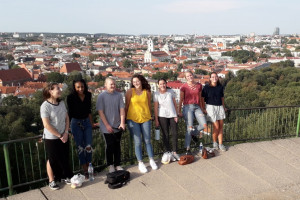 With a mission to prepare students to serve the church, community, and world, Malone prioritizes student opportunities to serve locally and internationally. The Center for Intercultural Studies is a new initiative dedicated to equipping students for these experiences. The Center will house service learning and off-campus study programs along with academic programs that are intercultural and interdisciplinary in nature, including Global and International Studies and Spanish for Service and the Professions.
Elizabeth Patterson Roe, Ph.D., director of the Center for Intercultural Studies and professor of social work, will oversee these programs.
"I am really excited to work with students across the disciplines as they learn to engage in intercultural relationships and learning," she said. "When I was a student, I embraced study abroad and service learning opportunities that were life-changing. These early experiences inspired me to be engaged in intercultural service as a lifelong calling. I am excited to utilize my past and current knowledge and connections to equip students for the intercultural experiences they are called to."
Each of the academic programs housed in the Center for Intercultural Studies has a strong field practicum or internship requirement, and the goals of the Center align closely with the Pendle Hill Pledge-- a campus-wide initiative to give students vocational-focused educational experiences.
"I hope that the new Center for Intercultural Studies will give the opportunity for all departments to benefit from the preparation that these programs offer their students," said Roe. "It is our goal that students will leave Malone better prepared to not just serve, but serve with the cultural humility needed to be effective in anti-oppressive intercultural learning that further expands Christ's Kingdom in our diverse world."
Prior to this role, Roe was chair of the Department of Social Work. Filling this position now is Andy Reynolds, Ph.D., assistant professor of social work.
"I am excited to continue growing a program that has been developed so well by social work faculty before me," he said. "It is a welcoming program dedicated to teaching skills to serve in a variety of areas and I enjoy pouring into our incredible social work students who have a clear vocational calling to serve vulnerable populations."