One Pioneer's providential path to ministry
For Vince Maltempi '11, the path to ministry was more than a job offer, it was a matter of divine providence.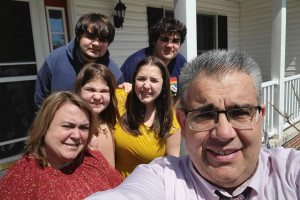 In 2006, Maltempi was working for Shearer's Foods when he began to feel the Lord calling him into ministry. He had already earned a bachelor's and master's degree from a regional state university, but he decided he should take some courses to begin preparing for that calling, so he enrolled in an online seminary program.

"Back then, online classes were nowhere near as well executed as they are today and I hated it," he said. "So I called Malone, which I drove by on my daily commute, and learned more about the Master of Arts options that were available. Malone ended up being a perfect fit for me, with evening in-person options and courses that ran in half-semester sessions. I really benefited from the in-person interactions I had in those classes."

After graduating from Malone, Maltempi continued to pray that God would open up a ministry opportunity for him while he attended Rootstown United Methodist Church and served as a volunteer middle school Sunday school teacher and chair of the Evangelism Committee.

"My sons were attending Tallmadge Christian Academy then, and one day their principal contacted me to share that they were planning to start at church plant at the school," Maltempi said. "He knew about my recent studies and asked me to consider joining their team as his associate pastor. He told me that it would be a great learning experience—and he was right."

After prayer with his family, Maltempi accepted that call and, with the help of four other families, planted Turning Point Christian Ministry, which has since merged with another church and is still active and vibrant today. Maltempi served there for eight years until God gave him his next assignment.

"In 2017, I received a phone call from a friend who informed me that a small church in Springfield Township was searching for a senior pastor because their current pastor had retired," he said. "I soon learned that the outgoing pastor was actually my wife's Sunday school teacher when she was a girl. There's no coincidence with God! We went through the whole interview process and were selected to serve this little country church with a congregation of fewer than a dozen people."

Fairhaven Church grew quickly, from a dozen weekly attendees to about 100 in a matter of weeks, and that continues today in spite of COVID-19.

"I attribute our growth 100% to the Holy Spirit," Maltempi said. "Our transformation is of God. We're a small and simple church. We have no staff other than me and we don't offer fancy programs. We sing hymns from paper hymnals with no band or lighting effects, yet people continue to come and grow. What we do have is God's Word and the Gospel, and we share 'the hope that is within us' (1 Peter 3:15) every chance we get. The Apostle Paul instructed us to scatter and plant the seeds of the Bible, water them with our Christian love, and we know that the Holy Spirit brings forth the increase (see 1 Corinthians 3). I truly believe that. "

A mark of Fairhaven Church is their hospitality. Recently relocated to Rootstown where many of its members live, Fairhaven is deeply vested in their community.

"We serve on a monthly basis at Haven of Rest and the Portage County Dog Warden, as well as having a presence at local community events like Trunk or Treat and the township's chili cook-off and Light Up Night," he said. "Our congregation is made up of community teachers, coaches, and first responders and tangibly showing the light of Christ in our local community is important to us."

Malone prepared Maltempi for a thriving ministry by instilling in him a passion for learning.
"I probably quote one of my Malone professors weekly in conversations or sermons," he said. "They helped me love the Scriptures and taught me to never take for granted the tremendous and beautiful responsibility of being a pastor. Even today, Malone's Center for Christian Faith & Culture is a huge resource for me. I attend most of their guest speakers and conferences because the content increases my Bible knowledge, refreshes me spiritually, and keeps me connected with Malone and other pastors in the community."

Married to Laurie since 1998, the Maltempis have four children and live in Rootstown.