Performers announced for Youth Explosion at Malone University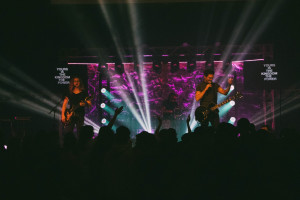 Youth Explosion, a ministry conference for middle school and high school students formerly held at Willoughby Hills Friends Church, will be offered this year on Saturday, Nov. 14 through a remote platform and hosted by Malone University. Moving the conference to an online format was necessary to comply with protocols from the Centers for Disease Control to reduce the spread of COVID-19.
"Though remote this year, our schedule will still include the kind of experiences that have made Youth Explosion a transformational experience for so many years," said Jim Davis '84, event host and associate pastor of Willoughby Hills Friends Church.
The 2020 Youth Explosion theme is "Made New: Isaiah 43:19" and performances will include:
• William "Willie" Green
Former running back for Boston College University, Green was ranked the number one running back on the board at the NFL Draft and ultimately chosen in the first round by the Cleveland Browns. William achieved many accolades in the NFL, including Team MVP and runner up for Rookie of the Year. Today Green travels worldwide, captivating audiences of students and adults alike. He learned first-hand that champions don't give up they get up.
• The Young Escape
Born and raised in Southern California, THE YOUNG ESCAPE (Capitol) delivers a fresh shot of indie pop with an energetic live show to match. The band's first two radio singles "good life" and "love me like you" secured #1 spots on the Hot AC Billboard chart. In only two years of being signed to Capitol, and with only three singles released during that time period, The Young Escape secured four national tours, including 46 cities with Crowder, who wanted them on his tour before they were officially signed.
• The Chancel Players
Through a presentation of dramatic sketches, Malone's drama ministry takes treasured stories off the pages of Scripture and bring these stories to life on state. They are ready to bring comedy and drama, laughter and tears to any audience.
Additional artists and performers will be added to the lineup in the weeks ahead. There is no charge to participate in this online experience, but registration is recommended and now available online. Learn more at www.malone.edu/youth-explosion/