Prepared for her future
Throughout the course of the year, Malone provides opportunities for current students to interact with young and seasoned alumni on campus to encourage professional development and mentorship.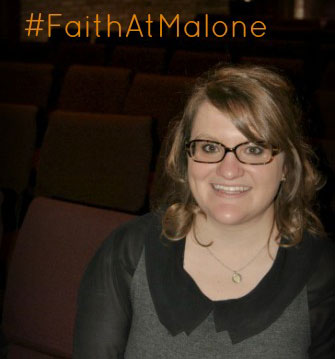 Recently, as part of the annual Alumni Career Convocation, Kimberly Deitrick '11 returned to the Johnson Center Chapel to share her story.
Deitrick grew up in nearby Dover and felt called to ministry at a young age. She wanted her college degree to reflect that passion, and to stay near home, so she felt that Malone would be a great fit for her.
"Once I moved onto campus, my transition into college life was more difficult than I thought it would be," she said. "I missed the familiar. It took me a long time to realize that if you invest yourself where God sends you, you'll be blessed in unexpected ways."
During her talk, Deitrick reflected on a conversation she had with Assistant Professor of Youth Ministries Bill Quigley.
While seeking out internship opportunities as a junior, she attempted to convince him that she should intern at her home church, and she could not understand why he thought it wasn't the best idea.
"But everyone knows me there!" she recalled telling him.
His response? "Exactly!"
Directed by Quigley's advice, Deitrick took a different internship at Grace United Church of Christ in Uniontown, and it blossomed into her first job opportunity. She has spent the last four years there as the director of Christian education and youth, and is now preparing to enroll as a master of divinity student at Chicago Theological Seminary this fall.
She closed her talk with this thought, "Each step along the way has prepared me for my future, and much of that preparation can be credited to my time at Malone."