Professor of Music Jesse Ayers honored at national conference
Professor of Music Jesse Ayers has gained national recognition for his work as a composer, leading to additional visibility for Malone University.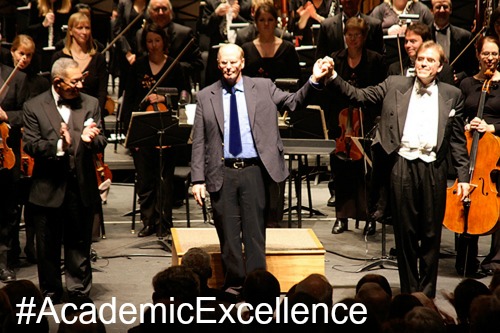 One of Ayers' major works for orchestra and chorus will be performed at the national conference of the Christian Fellowship of Art Music Composers held at Biola University in Los Angeles, Calif. The piece was selected from a national call for scores.
"Jericho" is a surround-sound piece employing expanded instrumentation, multiple antiphonal effects, narration, and unorthodox audience participation. It is the based on the Battle of Jericho and was composed over a 17-month period from October 2003 to February 2005. The piece premiered in April of 2005 and has since been performed more than 20 times throughout the United States. The work was a finalist for the 2014 American Prize in Composition.
"The piece blends the Old Testament account of the siege of Jericho with the New Testament words of Jesus to suggest that we have walls around our hearts from which we need to be set free by the power of Jesus Christ," said Ayers.
"Jericho" for orchestra and chorus engages the audience in a number of ways, according to Ayers.
"At one point the audience is asked to make as much noise as they can for as long as they can," he said. "That noise is accompanied by bass drums and it creates a very powerful experience. We surround the audience with percussion and you can feel the audience connect with the story."
Ayers is winner of the 2011 American Prize for Orchestral Composition, co-winner of the 2011 Dayton Ballet 'New Music for New Dance,' and a 2010 MacDowell Fellowship.