Rap/Hip-Hop Gospel artist KB is confirmed for Youth Explosion
KB will perform at Youth Explosion on November 12-13 at Malone University. Tickets for the teen ministry conference, formerly held at Willoughby Hills Friends Church, are $45 per person and are available online.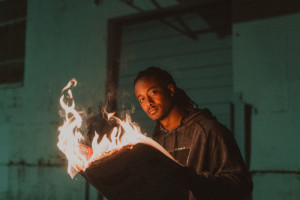 For years, Tampa native KB has been something of an outlier in hip-hop,and he has made his mark by invoking the power of spiritual conviction through his music. The world took notice, leading KB to win the No.1 Christian Album and the No. 4 Rap Album on the Billboard Charts in 2015. KB is for His glory alone and wants to help the children of God understand their place in the world today. His new album does just that, as it provides ammunition to help us confront the anxiety of the times, serving as a reminder that we're at our best when we are truly free.

In addition to KB, other performers include:

REGGIE DABBS
Motivational speaker Reggie Dabbs travels around the world to speak to more than two million children and youth each year. Born to an unwed teenager, Dabbs struggled throughout his childhood and at one point lived in a chicken coop in Tennessee. Today, he talks to adolescents about family and how thankful they should be that they have families. He is one of the most in-demand speakers on the challenges facing the youth of today.

THE YOUNG ESCAPE
Born and raised in Southern California, THE YOUNG ESCAPE (Capitol) delivers a fresh shot of indie pop with an energetic live show to match. The band's first two radio singles "good life" and "love me like you" secured #1 spots on the Hot AC Billboard chart. In only two years of being signed to Capitol, and with only three singles released during that time period, The Young Escape secured four national tours, including 46 cities with Crowder, who wanted them on his tour before they were officially signed.

JARED HALL
Jared Hall uses illusions and comedy to present the Gospel of Jesus Christ in relevant, engaging ways. Traveling extensively across the nation, Jared performs his illusions for many conferences, festivals, outreach events, youth camps, and Upward award nights. He has shared the stage with artists including Chris Tomlin, Louie Giglio, John Maxwell, David Crowder, Third Day, Switchfoot, Newsboys, Toby Mac, Lecrae and more.


Registration for Youth Explosion is available online.