Revisiting education to invest in an ecological passion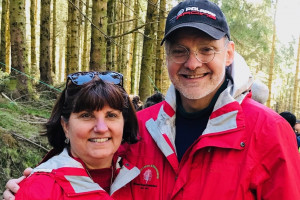 Strategic investment of some retirement savings in timberland (forests suitable for the harvest of timber) for recreational purposes led Jim Gresh '22 down a new career and educational path focused on ecology. As he spent time researching the field of forestry science and trying a few ecological timber harvests, his new hobby grew into a passion for ecological stewardship. However, with no formal training in biology, Gresh knew that he needed more education to make a positive and significant impact in this field.
"I was drawn to Malone's program, reputation, values, and convenience," he said. "With several faculty members sharing my interest in this path, the decision was easy for me. Their willingness to customize a program that supported my focus was extremely valuable. My adviser, Dr. Courter, suggested conservation ecology as an individualized major and I immediately knew that would be a perfect fit."
Gresh's passion for forestry is a family affair. He owns Boone Road Enterprises LLC with his wife Heidi, who manages the creative wood products division of the company. Additionally, their daughter, Katia '20, studied Zoo and Wildlife Biology at Malone.
Before this new endeavor, Gresh worked for The Timken Company for 33 years and was the executive director of The Timken Foundation for 3 years. The transition into a new career has been pleasant and his Malone experience has been beyond his expectations.
"The intensity of learning about something you are passionate about is completely energizing," he explained. "The direct applicability of my class content to everyday career activities has been surprising and motivating."
Gresh took that to heart when he, alongside Jason Courter, associate professor of biology, wrote a paper, In Pursuit of Ecological Forestry: Historical Barriers and Ecosystem Implications, which was published by Frontiers in Forests and Global Change. The inspiration to write about improvements in the United States forestry industry for the paper stemmed from his classes at Malone and his passions for ecology.
"The scientific peer-review process for publication was extremely difficult and frustrating," he said. "You need a thick skin for all the criticism, but the resultant learning was amazing. Having a co-author like Dr. Courter to strengthen the ecological linkages, help express complex issues, and simply be supportive and encouraging was essential to the effort."
Courter echoed that praise.
"Jim's approaches to ecological forestry are truly innovative and timely," he said. "It has been a privilege to help equip him to share his research with the broader scientific community and to partner with someone so passionate about his work."
Even with this accomplishment, Gresh still has more he wants to do.
"I aspire to help improve the stewardship of earth's forest ecosystems to the greatest extent possible. Although one person can always make a difference, the unified efforts of large portions of our population and industries are required today more than ever. I hope the readers of our article will increase their awareness of forest ecosystems and seek to understand what they might be able to do to help."