RSVP offers student artists meaningful collaboration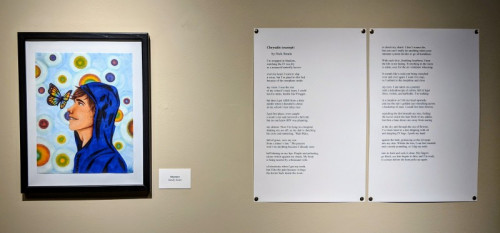 RSVP, an exhibit featuring a unique collaboration between artists and writers, just wrapped up its ninth year at Malone. The idea for the exhibit is that writers and visual artists exchange creations. Drawing inspiration from the other artist's work, they then create art in response.
"It's like being given an intimate and small part of their soul, and then attempting to respond to that," said Jessica Slater '19 Fine Arts and Crafts major.
There are not names on the works, students don't know whose work they are responding to - or vice versa. Names are revealed at the gallery exhibit.
"It was beautiful to see visual and written art intertwine," said Taylor Bernard '20, a junior Psychology major.
Both visual artists and writers agreed that this was a challenging project.
Catherine Martinez '20, a junior Fine Arts and Crafts major, said the most difficult part was "trying to see the writing from the writer's perspective and trying to portray that in an accurate way."
Brady Miller '21, a Creative Writing major, echoed these sentiments for the writer's side of the project, "You don't know exactly what the artist was going for with their interpretation, so you're trying to accurately portray that as best you can."
"It might be daunting at first, but if you calm down and take things one at a time, it will get done in no time," agreed Kaela Geither '21, Integrated Language Arts major.
Each of the participants looked forward to the challenge, and enjoyed the collaboration with other artists.
"I loved reading through the poem, letting it resonate with me, and then, just trying to capture something that was inspirational," said Alexa Thompson '19.
Participation in the exhibit is open to all majors.