Senior business major wins national award; speaks to an audience that includes former President George W. Bush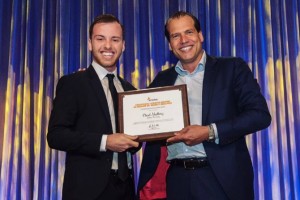 Chad Mallory '18 received the 2017 Enactus Emerging Leader Award last week, a national honor given annually to a college student who shows great potential to make significant contributions in the consumer packaged goods (CPG) industry.
Mallory has demonstrated his business prowess time and again through his engagement with Malone's chapter of Enactus as well as his previous business ventures in extreme couponing and his own international coffee business.
"I have always had a passion for consumer products," Mallory said, "and I thrive on discussions about sales strategies, data reflecting return-on-investment, and brand marketing. So when I was notified about the award, which included an opportunity to intern with the Grocery Manufacturers Association (GMA), I was thrilled."
Mallory spent the summer in Washington D.C., home of the headquarters for the GMA, where he not only gained hands-on experience but retained part-time, remote employment with them at the conclusion of the internship.
"Within my first week, I had developed and designed a website for the Trading Partner Alliance," Mallory said. "By my second week, I started working with SmartLabel™, a transparency initiative that addresses the need consumers have for a standardized method of sharing product information in a convenient, easy-to-understand manner. By my third week, I was tasked with auditing 9,000 landing pages spanning across 400 brands."
The Emerging Leader Award recipient is gifted a $5,000 academic scholarship, a $1,000 project grant for Malone's chapter of Enactus, and all-expense paid attendance at the GMA Leadership Forum at the Greenbrier in White Sulphur Springs, W.Va.
"What an honor it was for me to not only attend the GMA Leadership Forum this year, but to be publically recognized and asked to give an acceptance speech to a room full of top industry executives, former NBA commissioner David Stern, and former President George W. Bush," said Mallory. "I was the only student in attendance at this prestigious event, and I am so grateful for the exposure to this level of networking and conversations about hot topics in today's CPG industry. Without Malone's chapter of Enactus, and the GMA, none of this would have been possible."