Social Work Club brings joy to after school program
Senior social work major Megan Lee doesn't necessarily plan to work with children after graduation.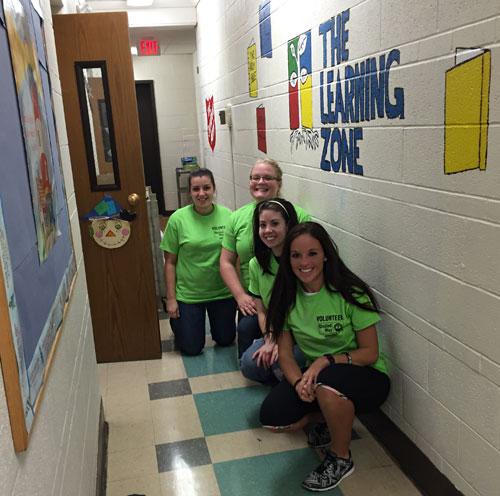 Regardless, she greatly enjoyed volunteering on a Social Work Club mural project at the Learning Zone after school program at the downtown Canton Salvation Army.
"The children who are part of the program were able to watch us start and finish the mural," said Lee. "They were so excited to have new people there and asked us lots of questions. One boy asked us if we were getting paid to paint, and the look of joy on his face was priceless after we told him we just wanted to do it."
Lee, co-president of the Social Work Club, noted that the student organization is working to take a more active role this semester.
"We have five very dedicated officers who are passionate about social work, student involvement, and the Malone and Canton communities," she said. Their activities include service projects, working with the United Way, fundraisers, hosting a National Association of Social Work representative, and traveling to Columbus for an annual Advocacy Day.
After graduation, Lee hopes to be employed in a family services setting at an organ and tissue donation organization.
"My passion for this came about after losing my mom to a brain aneurysm in 1998," she said. "I have met the two men who received her kidneys and am really good friends with the woman who received her heart. Having grown up knowing about organ donation, I knew I wanted my career to involve it."
Lee visited Malone as a high school junior, and wasn't sure what kind of major she needed to pursue her vocation.
"I shared my story with a social work professor," Lee said. "She told me I could work in organ donation in that capacity with a social work degree, so I chose Malone – and social work – and have loved every minute of it."

For more information, contact club advisor, Bekka Russell at 330-471-8480.