Student artists enjoy learning, creating together via R.S.V.P.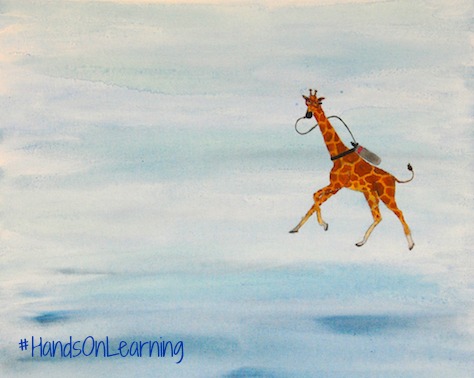 R.S.V.P. Caylie Mindling created this watercolor, Camelopardalis Aquinas - and Marissa Bennett wrote this poem in response"
Never, Never
In the Rust Belt of our youth
We beg to become exotic,
To trade our skin for a reconfigured pattern,
To decompose ourselves into a base desire:
Feet off the ground and soaring
With other Lost Boys
Children forever but happy
Among the constellation islands,
The frothy stratus clouds
That pool around our ankles
And smooth our cheeks
Into an iridescent softness.
But we are reality bound.
The heavens are the thing farthest from us
Ornate and juxtaposed
By iron skeletons
Jutting up imposingly against a stillwater
Sky gone smoky with exhaust.
Between the clouds we can catch a glimpse
Of the sapphire promise,
A galaxy lying in wait
For those of us
Not afraid to fly.
Malone Visual Arts and English departments brought together students in both fields for the sixth R.S.V.P. collaborative gallery. Participants' contributions ranged from realistic oil paintings to surreal photographs, short stories to poems.
Art students responded with new art inspired by the writing. Writing students responded with new writing inspired by the art.
"I thought this image represented the feeling of the poem," said Meghan Green '16, psychology major.
The process is preparation for the future careers of art and graphic design majors.
"It's good practice to interpret what a client wants and likes," Alicia Green '16, art major, said. "It's difficult to interpret the written works and come up with a response."
Interpreting artwork, especially art that has no apparent concrete story-line, was most challenging for the students.
"I chose not to focus on a story, but the feelings of the painting," said Creative Writing major Caylie Mindling '16.

"The main struggle was how to convey the raw emotion without using words," added Green.
The writers expressed similar sentiments.
Denise Huthmacher '16 wrote a poem in response as well as submitting original work for artistic transformation. Interpreting someone else's artwork was difficult for Huthmacher, but also her favorite part because it challenged in a unique way.
"I wanted to do justice to the art while making a poem I could call my own," Huthmacher said.
See the work firsthand in the Fountain Gallery of the Johnson Center through March 11.
Cobalt
by Denise Huthmacher
A rotten tangerine splats his juice in my face
In spite of it, I lay with him that evening inside the museum.
In an igloo I fell asleep to the sounds
Of his ukulele and Italian songs.
We swam in the
Lake as the cerulean man carried
A fishing pole and a 5gallon bucket.
I have tried to reign supreme, but have fallen short.
On my bookshelf thumbing through Faulkner and Gogal
I told him I loved him.
His lapis blue eyes crumbling between the pages
He is what I make him to be.
Corresponding artwork created in response, Cobalt, by Alicia Green