Find your purposeful and meaningful career expressing your creative gifts with language and story
Join our creative community as we grow together and build our gifts toward the creation of professional portfolios. You'll engage a full range of literary endeavors including creating poetry, stories, and essays. You'll learn to manage the editing, designing, and publishing of online and print journals. Additionally, you'll present your work at conferences and at public readings. Our goal is to graduate confident, skilled writers who can use their gifts to serve their professions and their communities as authors, editors, teachers, or writers in professional settings.
Program Distinctives
Create your voice as a writer through one-on-one mentoring in a program designed to prepare confident authors.
Find belonging in our supportive community of writers by participating in off-campus retreats, and in social events, outings to theater performances, and community service.
Become who you're meant to be through deep study of faith-relevant authors and a faith-welcoming learning environment.
Why study Creative Writing at Malone?
Attend our off-campus Literary Retreat where you will reflect on your calling as a writer and build a community of peers through writing, acting, and shared activities.
Apply for Malone's renewable, merit-based English Program Fellowships for amounts up to $1,000.
Join a supportive community of peers who hang out in our student lounge, participate in social events, and take small classes with high levels of student participation.
Learn from literary professionals in the Canton community and beyond through an internship, our English in the City Class, and the Writers Series.
Encounter the legacies of great writers in our Living Traditions courses, each of which considers an historical writer and their importance in contemporary culture.
Work with professors who are dedicated to helping you find your voice as experts in language.
What can I do with this degree?
We find that our graduates enjoy vastly diverse careers because excellent writers and creative thinkers are always in-demand. But here are a few of many common career options:
Novelist
Journalist
Blogger
Librarian
Technical Writer
Advertising copywriter
Arts administrator
Editor
Grant Writer
Teacher/Professor
View course curriculum
The Creative Writing major curriculum is listed in the official Academic Catalog.

Once in the catalog, you can use the buttons (pictured left) located at the upper right of the page to plan your courses, save courses to your own personalized catalog, print them, and more!
Creative Writing minor
Students who are majoring in another program may choose to take a Creative Writing minor in addition to their primary course of study. A minor consists of 19 hours of writing and literature coursework.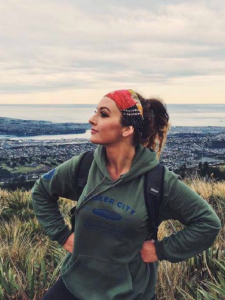 Alumni Profile
Riley Gable '17
Creative Writing graduate Riley Gable studied abroad in New Zealand. A published poet and author, she also works as a makeup artist.