Thinking in threes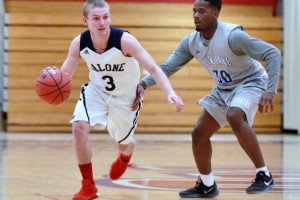 Senior Nick Williams seems to balance life in threes.
He is a student, a basketball player, and a member of the U.S. National Guard; and he's majoring in finance, accounting, and business administration.
Williams made the decision to join the military in 2013, motivated by love of his country as well as benefits for his future. He took a year off between his first and sophomore year, but is now at senior status.
Though monthly National Guard drills sometimes interfere with basketball games and practices, Coach Casey Kaufman said he's proud to have Williams on the team.
"Nick pays a lot of attention to detail, he is one of the best at that aspect of the game. He also is very good mentally and is very disciplined," Kaufman said. "It's great to have a guy like Nick on the team. He is our biggest asset on the floor in practice. He really wants to excel in whatever role he is given, and you can tell that by his attitude and work ethic."
Williams is the first to admit that it's sometimes tricky to manage everything on his plate.
"Balancing all three is hard, and I don't have a lot of free time," he said. "But learning to balance all three has definitely helped me grow as a man over the past two years."