U.S. News & World Report recognition of Malone University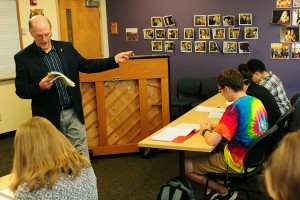 U.S. News & World Report recognized Malone University in three separate categories for its 2019 Best Colleges Rankings. Malone ranks among the Best Regional Universities in the Midwest, ranking 81 among the 172 institutions, 33 among 75 institutions for Best Value, and 50 among 52 schools for the Best Colleges for Veterans.
"Third-party endorsements are important as they frequently shape the perception of an institution's value," said Malone University President David King. "Malone has consistently appeared in the U.S. News rankings due to the strength of our academic programs, the reputation of our faculty, and the outcomes that are made possible to our alumni with a Malone degree."
Criteria used in ranking institutions for "Best Colleges" include graduation and first-year retention rates, assessments by administrators at peer institutions, faculty resources, admissions selectivity, and alumni giving.
Criteria used in ranking institutions for "Best Value" include a school's academic quality as well as the 2017-2018 net cost of attendance for a student who received the average level of need-based financial aid. The higher the quality of the program and the lower the cost, the better deal. Only schools ranked in or near the top half of their categories are included because U.S. News considers the most significant values to be among colleges that are above average academically.
Finally, to be ranked among the "Best Colleges for Veterans," an institution must be certified for the GI Bill, participate in the Yellow Ribbon Program, have enrolled a minimum of 20 veterans and active service members (or a critical mass) in the 2017-2018 academic year, and be in the top half of its U.S. News ranking category.
"U.S. News is pointing to something that we already know, that Malone is one of the best value schools in all of higher education," said King. "A Malone education continues one of the best investments a family can make. Our students are prepared to thrive in a complex world as servant leaders shaped by our integration of faith and learning."