Virtual Saturday helps students prepare for their next steps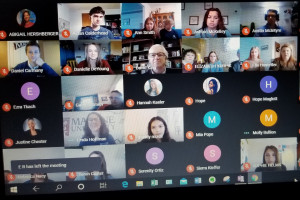 The COVID-19 pandemic has called everyone to creativity as we aim to move forward with life and education to the best of our abilities. High school students are still preparing for their futures and college seniors are still preparing to enter the workforce. On April 18, Malone responded to these needs with a "Virtual Saturday," which hosted current and prospective students on various Google Hangout calls for Future Pioneer Day and the Student Research Symposium.
The annual research symposium provides current students with an opportunity to showcase their cutting-edge creative and academic work. Future Pioneer Day replaced three previous on-campus admissions events: Saturday Sneak Peek (designated for students interested in a broad view of the University), Discover Day (for students to interact with faculty, parents, and students) and Accepted Students Day (meant to celebrate high school seniors who have been accepted to Malone and provide them more information about how to transition to Malone this fall).
The Student Research Symposium virtually held 16 presentations. They can be viewed here.
"The students that participated in the 2020 SRS are very dedicated and went the extra mile to present their research projects even though we couldn't be together in person this year," said Kathryn Huisinga, associate professor of biochemistry and honors program co-director. "All of the students that participated were willing to embrace the technology and were glad they still had the opportunity to share the research they had worked on all year. The Malone IT and University Relations departments were instrumental in making this event happen and giving it a more professional feel!"
Future Pioneer Day had 120 registrants. Pictured above is a screencap of the opening session.
"Future Pioneer Day was our first large virtual event. It was wonderful to see so many future Pioneers," said Linda Hoffman, director of admissions. "Everyone was excited to learn more about Malone and have the chance, albeit virtually, to get to know other students and their future faculty. It was a great day!"
As we continue to serve current and future students during the stay-at-home order, Malone will hold similar events online to showcase specific academic programs, including guided virtual tours every Wednesday.