When hands-on experience happens in the southern hemisphere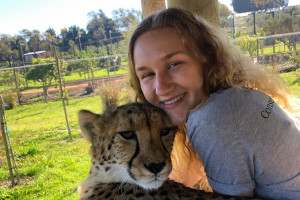 Jenna Saunders '20 loves animals and has a passion for wildlife conservation, which is what initially drew her to Malone as a Zoo and Wildlife Biology student. As a requirement for graduation, Saunders needed to complete an internship, and while researching in 2018 she found the Cheetah Experience in Bloemfontein, the capital of South Africa. That summer, she decided to do a short internship to see if she would like it enough to return and complete her full internship requirement in 2019.
"I ended up loving the short-term project and the time I spent there," she said. "So, I applied for a 9-week internship at both ZA Cheetah Conservation in Bloemfontein and Ashia Cheetah Experience in the Western Cape for the summer of 2019."
Saunders spent the first five weeks of her summer at Ashia Cheetah Conservation, a registered sanctuary for retired breeding cheetahs and a forever home for education animals such as servals and leopards. Her job duties included taking care of the animals and creating an enriching environment for them. This facility also facilitates the Wildling and Release Project, so she could also work with cheetahs that will be released back into the wild.
After Ashia, Saunders spent four weeks at ZA Cheetah Conservation, a cheetah breeding project and educational facility. They host ambassador animals to help teach tourists about conservation and Saunders had the opportunity to care for those animals, monitor cheetah cubs, and give educational tours.
Saunders already recognizes how Malone helped her to prepare for the experience.
"All of the courses I took for my major have given me skills and knowledge that I used during my internship," she said. "My classes taught me a lot about proper animal husbandry, conservation, research, and public outreach, which are all things that I needed to know going into this opportunity."
It was an incredible summer for Saunders, a valuable experience she won't take for granted.
"This entire internship was amazing and will definitely be one of my favorite life experiences," she said. "The most fulfilling part was taking a cheetah that I worked with in captivity and bringing her to the rewilding project so she could learn to be wild and then released. I saw this cheetah go from life in captivity to a new life in the wild where she will help to save her species."
Click through the gallery below to see some of Jenna's interactions with the animals over the summer.