When persuasion opens doors for service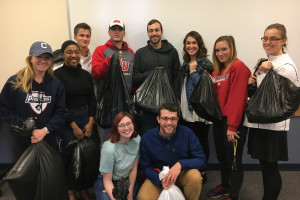 Each time that COMM 410 – Persuasion is offered, Malone students learn more than persuasion techniques. During the fall of 2019 alone, more than $12,000 was raised through student-driven crowd-funding initiatives to benefit local non-profits that demonstrate Christ's Kingdom First to the greater Stark County community.
"I design the class to teach persuasive communication through a project that requires social media skills and personal selling," explained Jason Moyer, associate professor of communication. "To make it unique to Malone, I emphasize that students should raise money to serve those in need in our community."
This time around, students broke into six teams that fundraised for Not For Sale, Friends of Stark Parks, Total Living Center, Freedom Farms, Pathway Caring for Children, and Project Kare, determined by a friendly competition. Each student delivered a speech asking the audience to partner with them in fundraising for a community need to match their passion. The winning students served as team leaders; the rest polished resumes and persuaded the team leaders to choose them based on the skills they could offer.
The process to choose which organizations they wanted to support was just as strategic.
"I wanted to select a cause that would help children, address a tangible need, and had a reasonable solution," said Peyton Hamilton '20, leader for the Project Kare team. "I was given the idea to provide duffle bags and luggage for foster children by my fiancé, Jessica. Her sister had been in a group foster home and only had trash bags to carry her belongings before coming to stay with Jessica's family. I realized that there are foster kids in Stark County in the same position who need a reminder that they are not trash, despite what the black plastic bags signified to them."
They raised funds for their charities throughout the semester using online crowd-funding sites (such as rally.org), by sharing over social media, and through face-to-face connections.
"The owner of Not For Sale contacted me and shared how overwhelmed and grateful she was for our efforts and the money we raised. That was very fulfilling," said Leah Grimes '21. "Creating connections throughout the Canton community felt amazing. It reminded me to step outside of myself and be ambitious for someone else's benefit."
Four classes have completed this meaningful project and more than $25,000 total has been raised for community needs across Stark County.