After Candice McDonald D.B.A. completed her bachelor's degree in 2008, she had assumed life would return to 'normal.'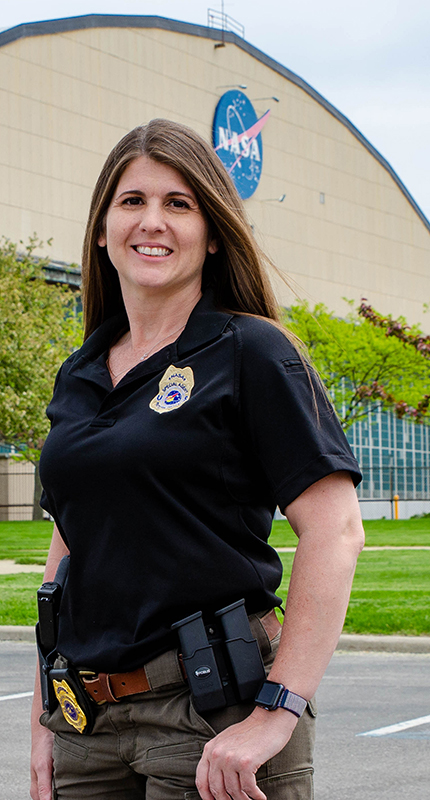 A marketing professional, volunteer firefighter, and mother of three, McDonald began to tell her children about the payoffs of finishing a university education. But at the time, even she couldn't imagine how big the payoff would actually be.
A decade later, McDonald has obtained a Master of Arts in Organizational Leadership from Malone, a Doctor of Business Administration in Homeland Security from Walden University, and a highly-competitive job working for the National Aeronautics and Space Administration (NASA) John H. Glenn Research Center (GRC).
"You often hear people say that education isn't beneficial or worth the cost, but I am proof of what doors can open because of education," she said. "It's all in how you use it. Your drive and passions in life propel you forward, but your education gives you a solid foundation that prepares you to seize opportunities and navigate difficult situations."
Hired in 2014, McDonald serves NASA as a physical security specialist and special agent at the Glenn Research Center. She is responsible for daily oversight of security operations, identifies and coordinates security needs for special events and VIP visits, conducts threat assessments and investigations, and serves as a liaison to external law enforcement.
"Candice is truly an exceptional addition to our team," said Christi Tomaro, chief, office of protective services at NASA. "She is a high-achiever, evidenced by her commitments and accomplishments. Candice excels at building coalitions, inspiring others, and bringing forward new ideas. In short, she embodies the values of our organization and the competencies needed for success. She is truly an integral member of our team and its success."
One NASA location of ten in the United States, the Glenn Research Center is responsible for approximately 3,500 employees and 6,750 acres of facilities.
NASA's premier publication Spinoff, profiles NASA-created technologies that have been utilized in commercial products or services. Each year, about 50 technologies are featured, including innovations that help disaster survivors who are trapped under rubble, purify air and surfaces to prevent the spread of germs, and develop and test new materials for everything from airplanes to athletic shoes.
"The technology developed at GRC extends far beyond use in space, and we take the security of our people, property, and assets very seriously," McDonald said. "Our assets also include intangibles like ideas and knowledge developed by our researchers, and we need to ensure that the amazing research our scientists conduct is not vulnerable to espionage or theft. I am a people person, but sometimes I need to make difficult and sometimes unpopular decisions and be firm with security policies in order to safeguard the GRC's daily work."
While her role at NASA keeps her busy, McDonald continues her service as a firefighter and EMT for the Sebring and Winona Fire Departments. She also serves as the public information officer for Sebring.
McDonald has expanded her involvement in the fire service to a national level. She is a trustee with the International Association of Women in Fire and Emergency Services (iWomen), serves on the board of directors for the Cumberland Valley Volunteer Firemen's Association (CVVFA), is a responder forum member for the National Fire Protection Association (NFPA), and is regarded as a subject matter expert in recruitment and retention by the United States Fire Administration.
"I am passionate about reputation management, volunteer recruitment and retention, managing change, personal branding for career success, and leadership," she said. "I speak nationally on these topics, about once a month, as a result of networking connections I make at national conferences or through articles I've published."
'Author' is yet another chapter of McDonald's success story. Her dissertation topic was retention of internal stakeholders in the volunteer fire service. It is the foundation of the recruitment and retention course she frequently teaches. She also recently signed a book contract with PennWell Publishing to offer fire service leaders practical tactics to address recruitment and retention issues.
"The leadership portion of my MAOL degree really sharpened my skills," she said. "The ethics coursework I took at Malone was groundwork for my research and course development on reputation management. I am even plugged in to NASA's leadership book club and I suggested we explore one of the leadership books I was required to read for the MAOL. We're reading it together now."
McDonald's faith is what initially led her to Malone.
"I grew up in the Friends Church, so Malone had been on my radar for a long time," she said. "It meant a lot to me that Malone offered a solution for the working adult to get an education. My faculty and classmates were so supportive during my undergrad and when I returned for my master's degree. As my career has unfolded, it's been neat to see all that I've learned become interconnected."
McDonald is passionate about leadership development and investing in people. Her twitter feed (@KSUCandice) is brimming with quotes to inspire and encourage those she meets in her daily work. She also offers consulting services to organizations and individuals wishing to grow.
"Wake up and do something today to take you closer to your goals. Accomplishments don't come overnight, they take daily action!"