Alumna offers local high school students meaningful hands-on learning opportunities
Lindsey Brant '10 appreciated the hands-on nature of her education at Malone, and has worked hard to create an animal care vocation program at Canton South High School, offering local high school students similar excellent experiential opportunities.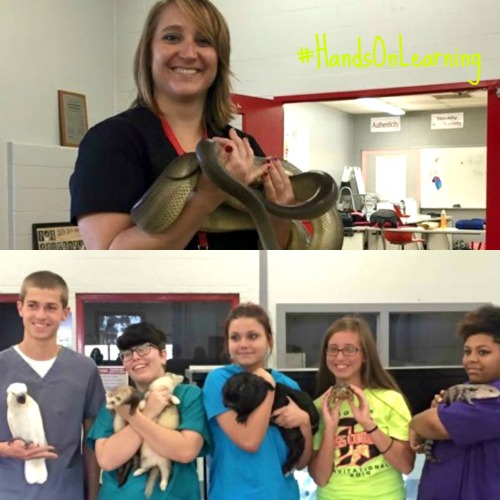 Krista Hussar, Career Technical Education Director for Canton Local schools, brainstormed with Brant to create a program geared toward the many students who wanted to work with animals as a career but were unsure of the career paths available to them.
"With my background in zoo biology and my experiences working with animals, I was able to direct her vision and suggest courses to offer," said Brant, a former chemistry and biology teacher. She also has worked at the Akron Zoo the Miami Seaquarium in Florida. "We offer zoo and aquarium science, companion animal health, selection and nutrition, animal anatomy and physiology, animal heath, and veterinary science courses. The hope is that students will gain experience with a lot of different content so that they can decide if they want to go the veterinary route - or animal training, zookeeping, or field research."
So far, students – juniors and seniors from Canton South, Perry, Sandy Valley, and East Canton high schools – have given the program rave reviews.
"It is like coming to work at a zoo everyday," Brant said. "They are completely responsible for the health and well being of the 44 + animals plus two 75-gallon saltwater and freshwater tanks. They have specific duties that rotate, they keep careful records to build observation skills, and they learn problem-solving, teambuilding, and just how challenging and rewarding working with animals can be."
In December, Brant finished a master of arts in teaching the biological sciences through Miami University's Project Dragonfly, in which she was able to pursue her passions particularly for integrating inquiry, community, and voice into education – in addition to travel and field work.
"In Baja, Mexico, I investigated desert and marine ecology," she said. "I got to swim with whale sharks! That was number one on my bucket list since I was in high school."
She also investigated neotropical ecology and ecotourism in Costa Rica, and worked with the Alala, the almost extinct hawaiian crow in Hawaii to learn what it takes to save species.