Applying theory to practice
Dan Bell's story touched senior Karli Kadlecek so much that she knew she had to do something to help him.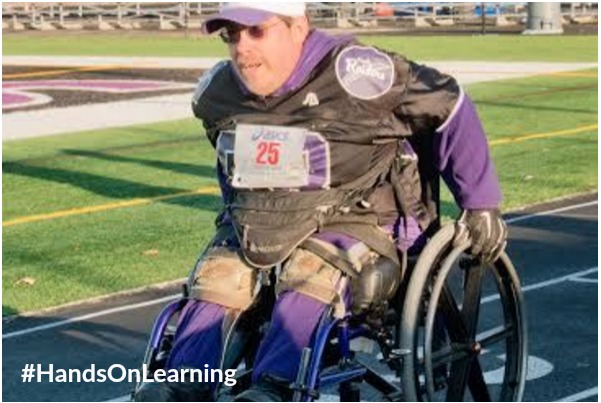 The Alliance native met Bell, a Walmart greeter, in her hometown. Bell was born with Spina Bifida and uses a wheelchair. In conversation, Kadlecek learned that Bell had recently started competing in local 5k races, but uses his daily wheelchair rather than a racing one. On one of Bell's most recent races he was on track for exceeding his personal best record. But as he descended a hill, the surface of the road was slippery and his hand got caught in the wheel, leaving him with a scar. Attempting to race a standard wheelchair, explained Kadlecek, would be like runners competing in flip-flops.
Enter her senior-level Persuasion class, taught by Assistant Professor of Communication Arts Jason Moyer. Each time Moyer teaches the course – one of his favorites – he teaches theory, then gives students the opportunity to apply that theory in a real world setting – usually in the form of a crowdfunding social media campaign.
"Jason gave us this great opportunity to do something about it," said Kadlecek, who rallied her student group to Bell's cause. "It's really exciting to be able our gifts and talents and what we've learned to try to make life better for someone."
In less than two weeks, the team of four students – also including seniors Jeremy Fannin, Matt Shoup, and John Yannie have raised $3,475 [at press time] at https://rally.org/wheelsfordan. $3,500 is needed to buy Bell a racing wheelchair; and if the team earns additional funds, they will purchase his entry fees to other races. Their campaign also is one the top features on the rally.org site, which further demonstrates the impact of Bell's story.
"It has been so exciting to work with Dan," Shoup said. "Dan is so excited – he didn't ever think a racing wheelchair was possible."