Beeswax blossoms into small business
When life hands you honeycomb... make lip balm? At least that is the case for Malone alumni Matt '04 and Laura Carmany '06. Their small business, The Wholesome Hive, combines his passion for beekeeping with her entrepreneurial spirit.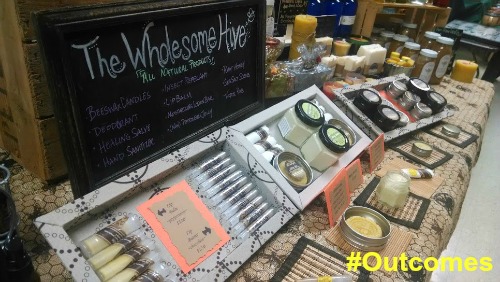 As a new mother who wanted to balance time at home with maintaining outside interests, Laura had been brainstorming work-from-home options. Since Matt frequently came home with beeswax, she began to research what she could do with those resources. She quickly became fascinated with the healing properties of many herbs, oils, plants, and honeybee by-products by experimenting with simple ingredients found in her kitchen, and over time began to change their household cleaning and body care regimen.
This inspired her to start a product line which includes deodorant, vapor rub (adult and infant-safe formulas), healing salve (commonly used on cuts, burns, and rashes), moisturizing lotion bar, and lip balm.
The Carmanys value education as part of their mission because of the impact these products have had on their own family.
"I strive to make people aware that it is feasible and affordable to live a more natural life, while not having to give up pleasant scents and fun packaging. It seems that Americans have become very dependent on and trusting of conventional medicine and over-the-counter body care, and we don't make it a priority to decipher the list of ingredients on the package. There are more natural options available, and while some consumers may call it 'tree-hugging', I'd rather call it 'God's healing gift to humans,'" Laura said.

"While I was a student at Malone, I recall our Free Enterprise class visiting local small businesses and engaging with the owners about their challenges and successes in entrepreneurship," she added. "Those conversations still run through my mind as we pursue our passion and expand the Wholesome Hive."