Developing leaders
When Beth (Altomare) Scheller '93 interviewed for a part-time job at the downtown Canton YMCA to lifeguard in the early mornings, she almost gave her testers heart attacks by diving into the shallow end of the pool.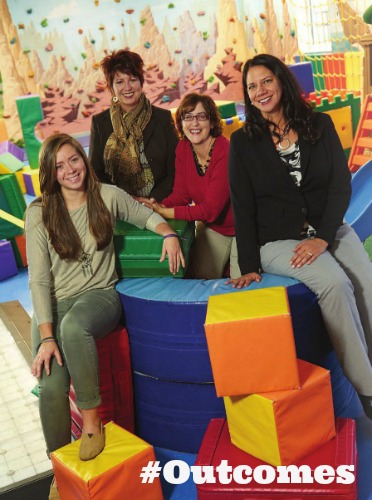 The employer looked past the college student's nerves and hired her anyway.
By the time Scheller was finished with her communication arts degree and then secondary education licensure at Malone – the YMCA's CEO asked her to be a program director.
"I said no, but he kept telling people that I was looking for a Y job,"said Scheller, now vice president of strategic advancement in Youngstown. "I was offered three different jobs at Ys, so I took one."
Though she's never taught in a high school classroom, a significant portion of her role is to train leaders at the YMCA of Youngstown, and is a faculty trainer for the YMCA of the USA.
Not long ago, Scheller was nominated for the prestigious Athena Award, which honors women who have demonstrated excellence in their career, provided leadership in the community, and mentored others.
Scheller's co-workers heartily agreed with this honor. In her role, she encouraged Juleen Keefer '08 (M222), Adele Taylor '08 (M227), and Tara Deagan Bishop x13 to finish their degrees through Malone's accelerated degree completion.
"Beth is one of the most trusted people in my world," said Keefer, Davis Family YMCA membership director. "I trust her leadership. I trust her heart for people. She's the most authentic person I know. She has a way of challenging and pulling the best out of people."
In addition to personal successes, the women are fulfilled by knowing they are making a difference in the lives of those in their community – and in Scheller's case – the nation.