Malone University Celebrates Commencement 2021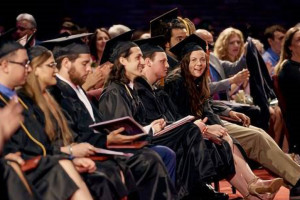 With gratitude for God's goodness, as we begin to see the possibility for normalcy in our future, it is with much joy that we prepare to celebrate Commencement 2021. This year's milestone is made extra special by our ability to be together in person, and to recognize last year's graduates alongside this year's graduates.
"While we are grateful for the advantages provided to us by technology, it was difficult to be apart during this celebratory season last year," said David King, president. "We are thrilled to celebrate the accomplishments of our graduates in a manner that is safe and will allow them to see the joy in our eyes as we cheered them into their next season of life.
The 129th Commencement ceremony will be held at the Tom Benson Hall of Fame Stadium on Saturday, May 8 at 10 a.m.
The 2021 Commencement speaker will be Janis Bowdler '00, president of the JP Morgan Chase & Co. Foundation. Her organization is a global leader dedicated to driving inclusive economic growth in communities worldwide, committing in 2018 to invest $1.75B over the next five years to strengthen workforce systems, revitalize neighborhoods, grow small businesses, and improve the financial health of individuals. Learn more about Bowdler's professional accomplishments and her involvement at Malone as a student at www.malone.edu/news.
Additionally, the 2021 virtual baccalaureate ceremony will be presented on Friday, May 7 at 7 p.m. Jacalynn Stuckey '77, professor of history, will serve as keynote speaker and the program will include music provided by the Malone University Chorale as well as student testimonials.
Information for graduates and their families about ticketing, parking, purchase of official photos and flowers, as well as the livestream link to the virtual baccalaureate program, is available at www.malone.edu/graduation.