Planted seeds come to fruition
Seeds were planted during Abigail Farmer's educational experience at Malone University that have come to beautiful fruition.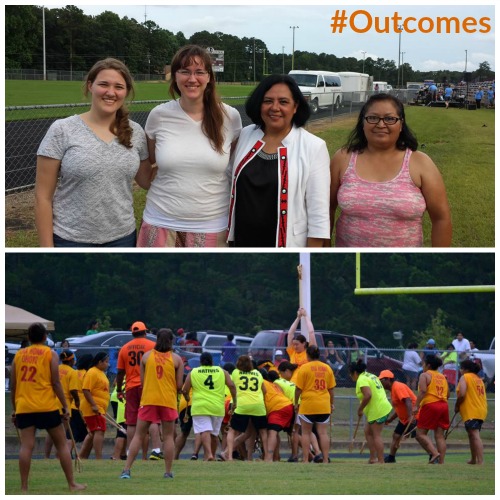 Farmer successfully defended her doctoral dissertation at Jackson State University recently, and was recently invited to join the Graduate Institute of Applied Linguistics as a distance education instructional designer.
"I learned a lot about cross-cultural ministry," said Farmer of her Malone years. "I went on service-learning trips to Chicago, Pine Ridge, South Dakota, and Fortelaza, Brazil. God used those experiences to show me there's a real need for God's love outside my own comfort zone."
As a missionary for 10 years, she spent the early part of her career teaching art to missionary kids in Papua, New Guinea. For the last seven years, she was in central Mississippi, working with the Mississippi band of Choctaw Indians, while also pursuing graduate studies.
As a visual arts major with a minor in psychology, Farmer found that learning from her professors opened up a new career path that she had never considered.
"After experiencing the love and support from professors who really invested in their students, I realized that I wanted to be a college professor when I was still in college," she said. "Drs. deOliveira and Entwistle both stand out to me as knowledgeable and caring. I was challenged on all different levels - intellectually, socially, spiritually, and emotionally. Dr. Georgia Eshelman absolutely changed the way I view the role of teachers."
After graduation, Farmer joined Wycliffe Bible Translators in 2005 and worked for two years at an International School in Papua, New Guinea. She completed a master's degree in language development at the Graduate Institute of Applied Linguistics and was then invited to work with the Choctaw Bible Translation Committee in Choctaw, MS.
"Mississippi has been a perfect fit. All my education and life experiences have come into play," she said. "At Malone I learned so much about how God cares for us. Every experience we have draws us closer to Him and makes us more like Him. I told God I'd serve Him for the rest of my life and I've never regretted that."
Follow Farmer's blog at http://thebluerockingchair.blogspot.com/.