Rugby at Malone off to impressive start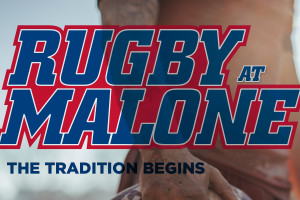 Kody Shilling '20 has had a great first season playing on the inaugural Malone men's rugby club. That is, until he broke his fibula in the last match Saturday night. But even then, his wet and muddy teammates waited with him at the hospital.
"There's such a sense of brotherhood among our teammates and even with the other teams," Shilling said. "I grew up playing baseball, so this is my first contact sport. But it's such a great game, and it's something I definitely want to do next year when my ankle is healed up."
Shilling scored 15 of the undefeated team's points on Saturday. Malone bested:
Taylor University, 17-12
Wabash College, 24-15
Tiffin University, 28-0
Bowling Green State University, 19-15
Kenyon College, 28-0
Last weekend, Malone won against the University of Akron, Case Western Reserve University, and Baldwin Wallace.
Malone's rugby program competes in National Small College Rugby Organization (NSCRO) DIll Great Lakes Rugby Football Conference.
Head Coach William Walmsley is relatively new to both Stark County and Malone, but Walmsley has felt right at home. A process engineer and alumnus of Arizona State, he led Young Life groups as a college student and currently plays on a local men's rugby team. There, he met Dante Raffin '18, who approached him about coaching for Malone's team.
"I loved the idea," said Walmsley. "I've been playing the sport for 15 years, and even had the opportunity to play in Australia for a year. I love the culture of rugby - it's all about bonding and brotherhood. There's a shared respect for both the other team and for the referees - there's no arguing or anything. It's offers a great model for kids to follow."
Walmsley said that the victories have sparked confidence and excitement among the players.
"We were definitely on Cloud 9 last week," he noted. "Everyone was so happy, and there was a different level of engagement: guys would come early to practice and then stay late. I was a little nervous coming into this experience with as a new coach with a brand new team, but it's been awesome and the team has completely exceeded every expectation."
For those unfamiliar with rugby, Malone plays Rugby 7s during the Spring, which are quick matches with seven players per team. There are two 7-minute halves with a 2-minute intermission. This Fall, Malone will field Rugby 15s, or 15 players per team. Those games have two 40-minute halves and a 10-minute intermission. In the sport, each team can carry, pass, or kick the ball to the end zone to score as many points as possible. There are no time-outs or substitutions, and forward passing is not permitted. A try is scored by grounding the ball (the ball has to be touching the player when coming into contact with the ground) at the opposition's goal.
Malone is actively recruiting players. Those interested in learning more about joining the team may visit: malone.edu/rugby