A unique route to medical school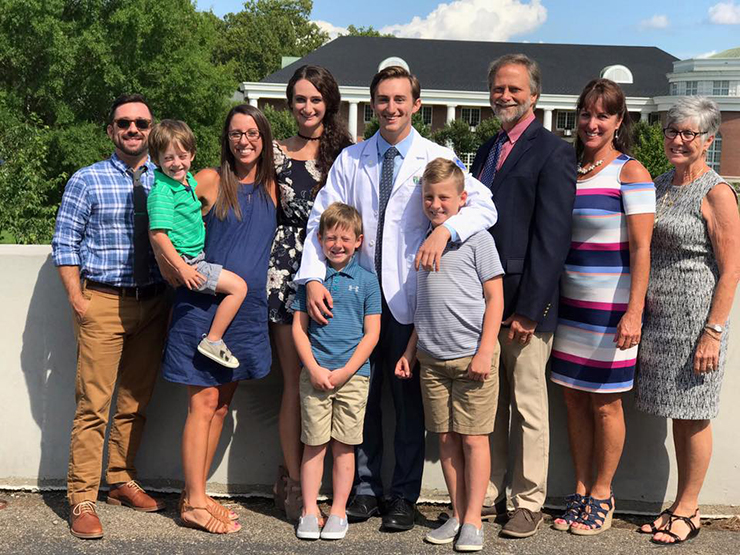 Andrew, pictured with his family after his white coat ceremony at Ohio University.
Andrew Hill '16 enrolled at Malone as a psychology student who was interested in emotional and mental health. During his sophomore year, Hill realized God was calling him to something different than Hill had imagined.
"I had an epiphany, a full circle moment," Hill said. "I suddenly realized I couldn't imagine a more fulfilling career than being a missionary doctor."
This decision came to him while sitting in a human biology class taught by Cynthia Johnson.
"She encouraged me and helped me identify my calling," he said. "She is incredibly faith-filled."
Students planning for medical school typically major in chemistry or biology, but Hill remained true to his passion and continued with psychology, then added chemistry as a minor. This approach, he reasoned, afforded him a unique perspective when working with patients. He also determined that the study of psychology would be a valuable asset to set him apart from other medical school applicants.
"However, I had a lot of catching up to do," Hill said. "With my new vision for the future, I had two year's worth of work to tackle, but my faculty members were ready to help me."
Professor of Chemistry Jeff Goff became a mentor and friend to Hill.
"Dr. Goff played a huge role in my life to help me prepare for medical school," Hill said. "He is intelligent and compassionate, and I'm grateful for the time and energy he poured into my life."
Hill is a student at Ohio University's Heritage College of Osteopathic Medicine. He is still discerning his specialty, but, he said, he knows he is where he belongs.