Using their talents: Students develop economic plan for Nicaraguan city
INTERNATIONAL EDUCATION. Marcio Riveras, mayor of Somoto, Nicaragua, invited Jack Harris and a team from Malone to help develop economic plans for his city.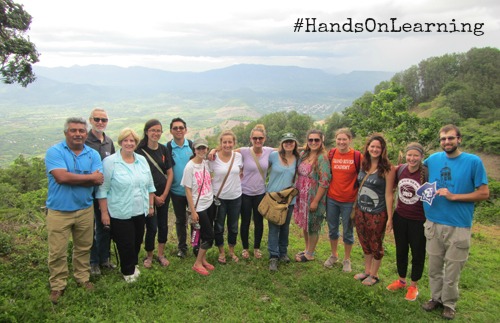 Father's Day of 2016 looked a little different this year for Professor of Business Jack Harris. Though he has two sons, daughters-in-law, and granddaughters (plus another little one on the way!), he was not with them. Instead, he was worshipping with other believers and a Malone team on his second trip to Somoto, Nicaragua, at the request of the mayor of that city, Marcio Riveras, who had invited Harris and a team of students and alumni to dream, brainstorm, and further develop economic plans for Somoto.
"The worship was all Spanish, however there were a couple songs that we knew the English to, so we sang the words we knew," wrote Angel Butler '16, who blogged for the team. "We also enjoyed songs by three little girls whom also had motions that they had asked us to join in on. One of the songs they sang was about singing for all the children, the ones who can't hear, the ones who can't walk, and the ones who can't talk or see. It was quite beautiful."
Harris handpicked 12 other team members, including:
Marva (Anderson) Hoopes '76, who is bilingual in Spanish and English, has a heart for missions and is an instructor in Malone's Theology department.
Ezra Tkach '14, Malone admissions counselor
Akari Adams '16, accounting, business administration, and finance
Rachel Belliveau '16, Biology
Emily Bidinger '17, accounting, business administration, and finance
Angel Butler '16, communication arts
Stephanie Eidt '16, zoo & wildlife biology
Alicia Green '16, graphic design and digital arts
Emily Mattioli '17, creative writing and global & international studies
Bethany McConnell '17, intervention specialist and early childhood education
Emily O'Dell '17, middle childhood education
Mariah Zachardy '17, graphic design & digital arts
The team spent half days in meetings with city officials as well as leaders in local hotel and industry, art, education, science, and tourism. If the city of about 40,000 is granted the Geopark status for which it has applied, it could bring much more tourism to the area. The city is especially renowned for its rosquillas somoteñas, a type of doughnut made from corn. A number of varieties are produced in small, family-owned factories.
On their last day, the team presented a 10-page report to officials.
"The mayor and city council were very pleased with the results and started implementing some of the ideas within two days of the students' presentation," said Harris.