Haviland Hall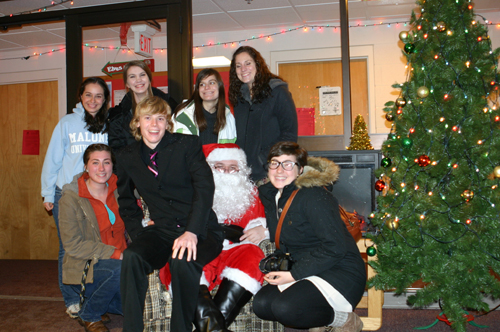 Haviland (LH) houses upper-class men as well as many freshmen who reside in suites where two double rooms are joined by a shared bathroom. Rooms are carpeted, air conditioned, equipped with loftable furniture and wireless internet. Study rooms and lounges are located on each floor. Laundry machines are free to residents in each building.
Programs in Haviland
Haviland Christmas House
This is a way to celebrate the end of the fall semester and the Christmas season. We turn the entire building into something that the would make the North Pole jealous. We decorate every square inch of space, set up mini golf through the halls, serve refreshments, and, of course, offer pictures with Santa himself.
Haviland Room Specifications
Each room contains: a bed, desk and chair, clothes closet and drawers, overhead light, desk light and draperies. Each hall contains a TV lounge, laundry facilities, microwave, water fountains and vending machines.
*See the Residence Life Booklet for more information on decorations and room modification.
Door Dimensions: 33¼"
Room Dimensions: 10' x 11'
Bed Dimensions: 81½" x 36"
**Building lofts in Haviland is not permitted because they are provided.
Mattress: 36" x 80"
Ceiling Height: 8'
---
Haviland Floor Plan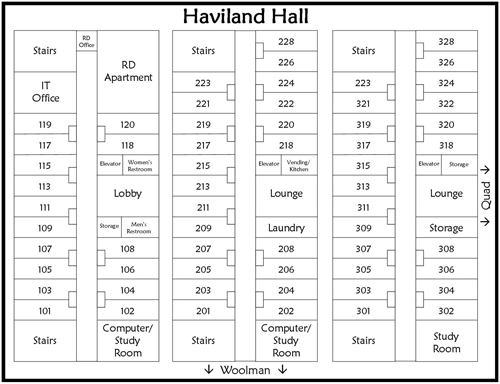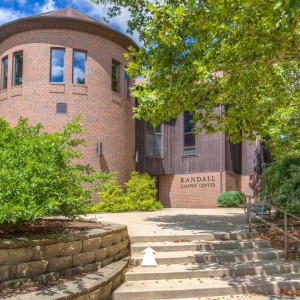 Also available as a guided tour from your smartphone.
Includes 360 degree photos of our campus hot spots!