Haviland Hall (LH) is a women's suite-style building. It mainly houses upper-class women who reside in suites where two double rooms are joined by a shared bathroom. Rooms are carpeted, air conditioned, and equipped with loftable furniture and wireless internet. Study rooms and lounges are located on each floor. Laundry machines are free to residents in each building.
Fun Fact: Haviland Hall was converted into a women's building in 2022. There is new carpeting as well as paint in each lobby and end lounge. There is even a brand new yoga studio on the third floor!
Programs in Haviland
HAVILAND PERK
This tradition started in Heritage Hall but has transitioned to a Haviland event. During this event, students have the opportunity to showcase their talents in this open mic night. Bring your own mug for a cup of coffee or tea. This is a "do not miss" event!
SOCK WRESTLING
This is one of our most bizarre traditions in Haviland, but, between studying and going to classes, students need to let loose and laugh! Partners wrestle other partners and the pair with socks still on wins! Prizes are awarded to our winning (and losing) pairs!
Meet the Staff
Resident Director - Michelle Alessandro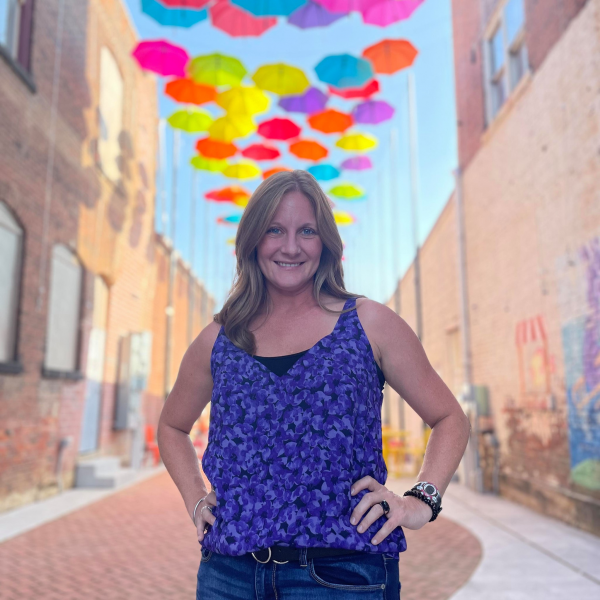 Michelle is the Resident Director of Haviland Hall. She received her bachelor's in social work from Malone University and master's in social work from Baylor University. Michelle lived in Waco, Texas, for eight years and worked in medical social work during that time period. Then, she moved back to her hometown of Canton, Ohio, in July of 2020 to embark on her dream job of being an RD at her Alma Mater. Michelle also serves as the Co-Advisor for the "Be: Justice" Student Group/SFO, Co-Director for the "Malone Serves" Scholarship Program, and, occasionally, an adjunct teacher in Malone's Social Work Department. Michelle enjoys spending time with her pets (one dog and two cats), hanging out with her family, and drinking a good cup of coffee. As a resident director, Michelle wants her residents to feel welcomed, valued, dignified, and like Malone is a home away from home. She believes living at Malone allows for students to form close connections, have in-depth conversations, and grow in their relationship with others and with Christ.
Haviland Room Specifications
Each room contains: a bed, desk and chair, clothes closet and drawers, overhead light, desk light and draperies. Each hall contains: TV lounge, laundry facilities, microwave, water fountains, and vending machines.
Door Dimensions: 33¼"
Room Dimensions: 10' x 11'
Bed Dimensions: 81½" x 36"
**Building lofts in Haviland is not permitted because they are provided.
Mattress: 36" x 80"
Ceiling Height: 8'
---
Haviland Floor Plan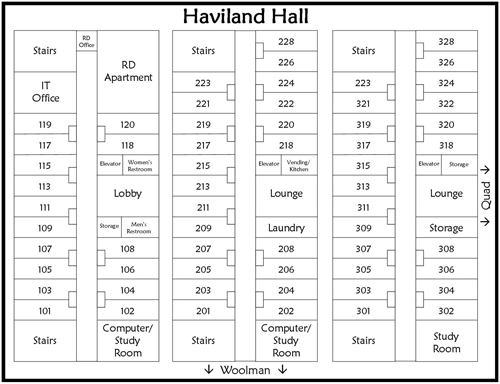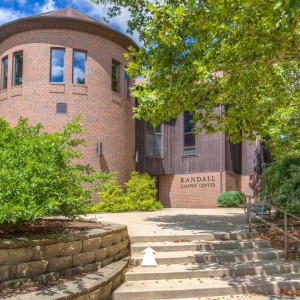 Also available as a guided tour from your smartphone.
Includes 360 degree photos of our campus hot spots!