Walking the walk while talking the talk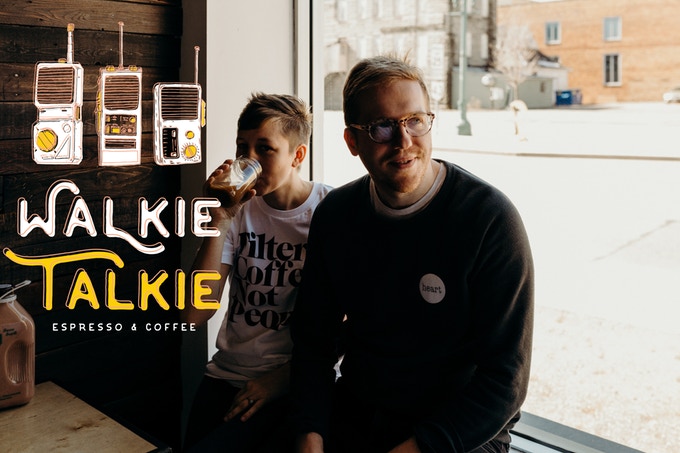 Lindsey King '15 has loved being a barista for the past 15 years.
Serving others, creating delicious concoctions that make connoisseurs smile, connecting with strangers over a shared passion, and then those strangers becoming friends – all of those experiences have brought her joy.
"I came to a point where I wondered what was 'next,' but nothing jumped out at me," she said. "I realized that even if I won the lottery, I would still want to make coffee."
As King finished her degree in organizational management through Malone's management program – while creating drinks such as a vanilla balsamic latte – she began to dream of a business plan for a different kind of coffee shop. One to where she could open her front door and walk. One that had a meaningful purpose. One that could transform a neighborhood.
She and her husband John '11 are working hard at making their dream come true just 10 blocks south of Malone's campus. They're renting via neighborhood investment a building located near Schreiber Elementary and Kempthorn Automall that used to be a pizza shop, then a service station. They're calling it "Walkie Talkie." Renovations should be completed in June, and they're hoping to open in July.
"The name 'Walkie Talkie' comes from our dream for our neighborhood," said Lindsey. "We want people to walk these beautiful streets and meet at our little corner to talk and connect. And serve quality coffee with a taste that stands out."
Her plan includes a simple menu and to serve pastries and beverages of high quality, such as local milk from Hartzler Dairy and Heart coffee from Portland, Oregon.
"The first time the idea of walkability took root was during my senior year at Malone, when I took a senior gen ed class called living well in a car culture from Scott Waalkes and Matt Phelps – both of whom walk to work at Malone every day," John said. "That planted a seed and has given me a lot to think about through the years. Ideas that I've taken to heart and tried to live out."
Armed with her management background, Lindsey also plans to get a B Corporation certification. According to the website (www.bcorporation.net) B Corp is to business what Fair Trade is to coffee or the USDA Organic certification is to milk. B Corps are for-profit companies certified by the nonprofit B Lab to meet rigorous standards of social and environmental performance, accountability, and transparency.
"I've already explored the idea of working with non-profits such as a women's shelter to create some kind of work program," Lindsey said. "I'm excited to be a good employer. I also hope to hire Malone students – it would be a great job that they could simply walk to."
At last year's Convocation, Malone president David King challenged students to "turn left" when they came to the stoplight at 25th and Cleveland Avenue.
"Yes, Starbucks, Milk & Honey and El Campesino and a ton of fast food options are reached by turning right. But Muggswigz, Deli Ohio, Carpe Diem, Samantha's Downtown, Market Square, The Arts District, First Friday, Love Canton, Refuge of Hope, TomTod, The Babe Stearn Community Center, Habitat for Humanity, and the Art Museum … are all found within minutes of turning left on Cleveland Avenue," he said. "And yes, by encouraging you to turn left on Cleveland Avenue, I have not only emphasized places where you can experience local food and culture, I have also emphasized a few of many examples of places where you can serve others."
King said he's excited to drink coffee at Walkie Talkie.
"It's a privilege to be able to support Lindsey and John in this meaningful endeavor," he said. "To know that they are using the transformation that they experienced at Malone and in turn are using their education to transform a neighborhood in the Canton community is such an encouragement. I know that they will be a light to the neighborhood, the city, and beyond."
View more information about the Walkie Talkie Coffee Shop.