Our Music programs are notable for the depth and breadth of opportunities they offer, no matter what type of music career you're seeking.
At Malone, we are inspired by beauty in all its forms and value music as an expression of God's blessings on Earth.

Under the direction of our nationally-renowned faculty, Malone's academic programs for musicians are selective and demanding in preparation for a career in music.


Malone musicians will enter the professional world understanding:
the central concepts which emphasize the principles of the fine arts and the historical context of music
how to prepare themselves to be performers, teachers, church musicians, and entrants into music industry positions
the best applications for musical knowledge across a variety of musical styles
the benefit of studying music in a small city with bountiful performance opportunities, characterized by musical excellence, that enhance aesthetic expression and expose the greater community to musical culture
their responsibility for stewardship in the fine arts and the best ways to use musical talent to express Christian faith

What are our Music graduates doing now?
High school marching band directors and choral conductors
Elementary school music teachers
Associate pastor for music and worship at Salem Friends Church
Schloss Mirabell Competition winner in Salzburg, Austria
Arden J. Yockey Scholarship for Voice winner
Executive for Atlantic Records
Contralto, performing at Carnegie Hall and around the world
Malone University is an accredited member of the National Association of Schools of Music (NASM).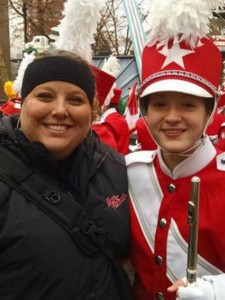 Outcomes
April Linard '05
As a band director, April had the opportunity to accompany students to perform in the Macy's Great American Marching Band for the Macy's Thanksgiving Day Parade!