Educating our future healthcare professionals
The Department of Nursing welcomes students who are looking to make a lasting impact in the world of healthcare. It is our goal to provide both undergraduate and graduate degree programs that incorporate Christian values and high-level training to those who wish to dedicate their careers towards caring for others. Our programs will prepare students to work in a variety of healthcare settings and will also prepare them to adjust to the changes that are consistently being made in the field.
Why study in the Department of Nursing?
Our programs are all centered around Christian principles that allow our students to practice with love, kindness, and understanding.
We provide our students with high-quality learning experiences and resources to enhance their education.
Our curriculum includes many hands-on opportunities and we have set up the progression of courses to include clinicals and internships early on so students are well-prepared come graduation.
Faculty interact with students on an individual level to provide them with the assistance and guidance they need to succeed.
Passing rates for board licensure and certifications are a direct reflection of the quality education students receive from this department.
We hold a reputation in the local area and beyond that allows ours students to have great success in job placement post-graduation.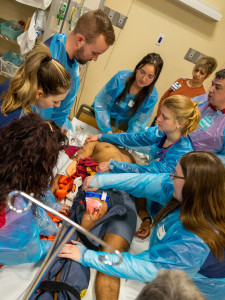 Spring 2023
Trauma Simulation
During the spring semester, the senior nursing critical care course (N412/N414) hosted a Trauma Simulation activity. In the trauma scenario, the simulated patient was a 25-year-old athlete who suffered…