Building on strength.
Facilitating change.
Empowering communities.
As part of Malone University's College of Theology, Arts & Sciences, the Department of Social Work will lead you to more than just a career. It will lead you to your life's calling.
We believe that caring for marginalized groups of people is one of the hallmarks of Christ's kingdom. As you prepare to serve the most vulnerable groups in our society, you'll find yourself equipped to face the challenges and joys of a life of service that is at the very heart of Christ's teachings.
The rewarding "work" of social work
Empowering society's most at-risk individuals to find their place in the world, achieve success, and rise above their circumstances is work for the bravest of hearts.
The tremendous flexibility of the social work field allows you many opportunities to live out your calling to serve others. Our graduates work in a variety of fields with many different types of people. So, whether you feel called to care for older adults, investigate child abuse and neglect, organize discharge plans for hospital patients, provide treatment for individuals struggling with substance abuse and mental illness, provide case management services to victims of human trafficking, or serve in international development (to name just a few of the exciting jobs our recent graduates are involved in), a degree in social work will prepare you to serve wherever help is needed.
Why study Social Work at Malone?
That's a great question—one we're so glad you asked! Below are many reasons. Or if you have questions and want to talk to a current student or professor, feel free to contact us!
The three full-time faculty members in the Social Work department are a close-knit team who bring a wide variety of expertise to you, their students!
Elizabeth Patterson Roe's work has focused on international social work abroad, work with international populations domestically, and community development.
Andy Reynolds has experience working in community mental health as a clinical social worker. His research interests are in the cost of caring and teaching pedigogy. Andy enjoys teaching interviewing skills, interventions, research methods, and ethics.
Bekka Russell's work has concentrated on recognizing and improving mental health symptoms (with a variety of populations including young children, teens, adults, and parents), advocacy for children in the foster care and adoption systems, and raising awareness related to both infant and maternal morbidity and mortality rates.
You'll take classes with many of the same students for three years, developing close friendships and a strong sense of community with others who share your vision and calling.
You'll have many opportunities for internships and field placement with a wide variety of populations and client systems—from hospitals to homeless shelters, correctional facilities to adoption agencies.
International social work is relatively new as a field. Malone students have had incredible experiences in locations across the globe. Malone has specific partnerships and opportunities for study in Denmark, Romania, and Uganda.
Two-thirds of our alumni go on to earn a master's degree—and our students get into excellent graduate schools. Because Malone's social work program is accredited by the Council on Social Work Education (CSWE), graduates are eligible for advanced standing in many Master of Social Work (MSW) programs, many times allowing alumni to finish in one year of full-time study rather than two.
Our graduates consistently pass the exam to become a Licensed Social Worker (LSW) at a higher rate than the national average.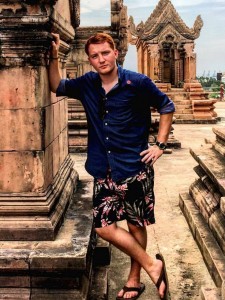 "The Malone community is legendary, and only people who go to Malone truly understand that...it's special. What a transformative experience it was for me!"