For the love of the game
Interested in coaching in the future? Malone students of any major are invited to pick up this minor, which consists of courses in exercise science, physical education, and sport management.
Students who are majoring in another program may choose to take a Coaching minor in addition to their primary course of study. A minor normally consists of a minimum of 15 semester hours, 6 of which must be taken at the 300/400 level. Each academic school or department must approve the student and curriculum to be used in the completion of each minor for the Office of the Registrar to verify at the point of graduation.
View course curriculum
The curriculum for Coaching is listed in the official Academic Catalog.

Once in the catalog, you can use the buttons (pictured left) located at the upper right of the page to plan your courses, save courses to your own personalized catalog, print them, and more!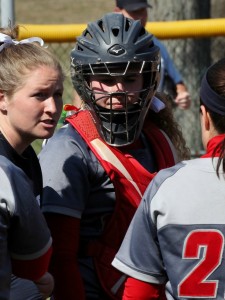 Alumni Profile
Kathryn Bzdafka '08
After playing softball for Malone herself, Kathryn returned to take the reins of the Pioneer team—this time as its coach.