Find your purposeful and meaningful career as a language expert who writes and thinks critically
Become a part of a supportive learning community as you examine language, write texts, and think critically in the face of new contexts and challenges. Learn from literary professionals in the Canton community and beyond through an internship, our English in the City and the Writers Series. Students with a degree in English from Malone are imaginative, well-read and well-spoken, and prepared to succeed and serve in both their careers and personal lives.
Program Distinctives
Create your voice as a writer through one-on-one education in a program designed to prepare confident and skilled graduates.
Find belonging in our supportive community of writers by participating in off-campus retreats,

social events, outings to theater performances, and community service.

Gain a fuller sense of poetry, fiction, and non-fiction from faculty who incorporate faith-relevant authors and create a faith-welcoming learning environment.
View course curriculum
The English major curriculum is listed in the official Academic Catalog.

Once in the catalog, you can use the buttons (pictured left) located at the upper right of the page to plan your courses, save courses to your own personalized catalog, print them, and more!
English minor
Students who are majoring in another program may choose to take an English minor in addition to their primary course of study.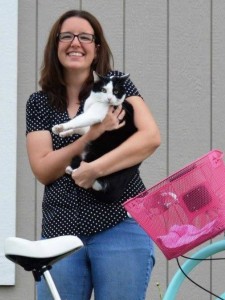 Alumni Profile
Amanda Flower
After graduating from Malone, Amanda became a successful mystery novelist. She's written over 20 books, including the Agatha Award-winning Andi Boggs series.