Learn how gender shapes our perception of the world
Examine and analyze gender and its meaning from multiple scholarly perspectives: communication, health, history, literature, sociology, theology, and more. The minor will complement any major and, in keeping with the institutional mission to prepare men and women for scholarship and service, underscores the value and contributions of both men and women.
Students who are majoring in another program may choose to take a Gender Studies minor in addition to their primary course of study. A minor normally consists of a minimum of 15 semester hours, 6 of which must be taken at the 300/400 level. Each academic school or department must approve the student and curriculum to be used in the completion of each minor for the Office of the Registrar to verify at the point of graduation.
What careers will benefit from a Gender Studies minor?
Educator
Librarian
Author
Attorney
Advocacy
Social services
Health services
Communication
View course curriculum
The Gender Studies minor curriculum is listed in the official Academic Catalog.

Once in the catalog, you can use the buttons (pictured left), save courses to your own personalized catalog, print, and more!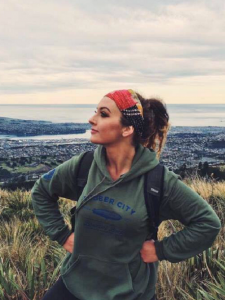 Student Profile
Riley Gable
Senior Gender Studies minor Riley Gable is studying abroad in New Zealand. Her poetry, which underwent extensive review during in-class workshops, was published recently by Zaum Press.