Learn to lead with creative vision
For creative and self-motivated individuals, marketing is a rewarding and challenging field in high demand. Employers in this competitive profession find that they can upgrade the competition by hiring talented people with specializations in their professional areas of need.
The ACBSP-accredited marketing major offers concentrated course studies in the areas of sales, media outreach, and marketing management — a combination you'll benefit from in today's marketplace. These core areas are supported by courses in communication, accounting, persuasion, business ethics, consumer behavior, economics, and more.
You'll be equipped to pursue careers related to advertising, promotions, and sales as you learn to communicate key messages to customers, see projects from idea generation to completion, and measure results so that you can achieve your goals.
Why study marketing at Malone?
We're serious about integrating Christian ethics into our curriculum. We emphasize ethics and integrity and make an intentional effort to make you aware of honorable business practices.
Our proximity to a metropolitan area and our respected reputation will provide you with numerous internship opportunities.
You'll get hands-on experience at corporations, small businesses, non-profit organizations, and churches.
Our Enactus team (an entrepreneurial service & education team that competes nationally) has been successful in recent years — advancing to nationals and gaining opportunities to practice presentation skills in front of Fortune 500 leaders.
You'll be taught by faculty members with doctorate degrees, decades of marketing experience, and applied knowledge in economic, international, and small business development.
A minor or a second major will maximize the benefits of your liberal arts education. Consider a secondary major in global and international studies if you are interested in working outside the U.S.; Computer Science if you'd enjoy working in the technology industry, Business Administration, Communication Arts, Finance, or more!
What kind of career fields will the Marketing major prepare me for?
Students who graduate with a degree in Marketing will be prepared to pursue successful careers in fields such as:
Account manager
Advertising executive
Brand manager
Marketing development manager
Marketing specialist
Market researcher
View course curriculum
The Marketing major consists of required credit hours in accounting, business administration, communication arts, and economics courses. Each course is listed in the official Academic Catalog.

Once in the catalog, you can use the buttons (pictured left) located at the upper right of the page to plan your courses, save courses to your own personalized catalog, print them, and more!
Marketing minor
Students who are majoring in another program may choose to take a Marketing minor in addition to their primary course of study. A minor normally consists of a minimum of 15 semester hours, 6 of which must be taken at the 300/400 level. Each academic school or department must approve the student and curriculum to be used in the completion of each minor for the Office of the Registrar to verify at the point of graduation.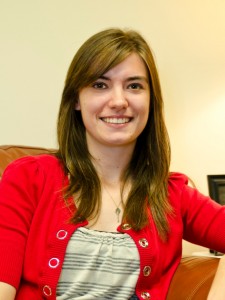 Michelle turned an internship at Beaver Excavating into a job before graduating from Malone. She is now a corporate accountant at Shearer's Snacks in Massillon.