Building on strength.
Facilitating change.
Empowering communities.
These are the goals of the Department of Social Work at Malone. The social work major leads to more than just a career—it will lead you to your life's vocation.

As you prepare to serve the most vulnerable in our society, you will find yourself equipped to face the challenges and joys of a life of service.
Why study Social Work at Malone?
Malone's experienced faculty have a variety of expertise and interest, including domestic transracial adoption, the prevention of relationship violence, social policy, school social work, cyberbullying awareness and prevention, international social work, work with refugees and immigrants, suicide prevention, community development, and other community-based social work.
You'll have many opportunities for internships and field placement with a wide variety of populations and client systems — in hospitals, homeless shelters, child welfare, community development, mental health and medical settings, correctional facilities, adoption/foster care, and international settings.
Two-thirds of our alumni go on to earn a master's degree, and our students get into excellent graduate schools. Because our program is accredited by the Council on Social Work Education (CSWE), graduates are eligible for advanced standing in many Masters of Social Work (MSW) programs, many times allowing alumni to finish in one year of full-time study rather than two.
International social work is relatively new as a field. Malone students have had incredible experiences in locations across the globe. Malone has specific partnerships and opportunities for study in India, Romania, and Uganda.
What can I do with this major?
You'll be taught how to:
Recognize your own heritage and traditions so that you can engage people from other cultures, ethnic groups, and religions.
Practice general work in your area of interest: working with the elderly, children of the under-resourced, people with addictions, individuals who have been trafficked, among other vulnerable groups.
Understand the interface between your faith and social work and be able to make appropriate applications of each.
Advance human rights and social and economic justice.
Conduct research that applies to your area of interest.
Engage in meaningful internships that prepare you for your career.
Seek and work to create justice in a fallen world.
Learn listening skills and methods of working with individuals, families, groups, and communities.
Internship opportunities
Internships are a very important part of the social work program at Malone. Students are required to have field placements during their sophomore and junior years, and a full practicum experience is required during the senior year—all drawing from a wide network of opportunities.
Research opportunities
There are numerous opportunities to pursue and present research with our faculty or independently at our annual Student Research Symposium. In addition, students have enjoyed presenting at national conferences. This is excellent preparation for graduate school and your career.
View course curriculum
The Social Work major courseload is listed in the official Academic Catalog.

Once in the catalog, you can use the buttons (pictured left) located at the upper right of the page to plan your courses, save courses to your own personalized catalog, print them, and more!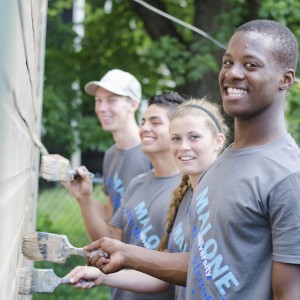 Love to serve? Check out Malone's service-learning opportunities!